CHARLESTON, W.Va. — Members of Teamsters Local 175 who work for Coca-Cola Consolidated decided to report for work Wednesday even though their contract with the company expired Tuesday night.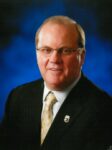 Local 175 President Ken Hall told MetroNews a decision was made late Tuesday night to keep working out of respect for Coke's customers who have expressed disappointment with how the company has handled the labor dispute with the workers.
"They (the customers) want to be able to contact the company themselves," Hall said.
So for now the workers are working without a contract. Hall said that wouldn't last for very long unless the company comes back with a better offer.
Hall said that a last ditch effort was made by the union with the company to try and settle the dispute Tuesday but nothing had changed and no progress was made.
"We requested that a federal mediator meet with the company to resolve the dispute, unfortunately the company is not willing to move off their position to cut the pay of employees and eliminate their jobs," Hall said.
The dispute follows a proposal made by Coca-Cola suggested cutting off the employees from delivering Coke products and instead directly shipping them to warehouses like Sheetz, who have entered into their own agreement with Coke on how they will obtain their products and put them in their stores. Sheetz employees would bring the products from the warehouse to their stores.
The Teamsters employees rejected the proposal and were put off by the move made by Sheetz with the soft-drink company.
Hall added that with this strike of workers in Charleston and Logan, it could very easily start a domino effect of workers in other areas to follow suit.
"They will probably extend that picket line to other locations in Bluefield, Parkersburg, and Clarksburg," said Hall. "If that be the case, that would be a total of over 200 people on strike."
This strike may even reach Teamsters workers outside of West Virginia. Hall said a similar proposal was put up in a neighboring state.
"There's a possibility that this strike could extend into Ohio where there's another 1,000 Teamsters members," Hall said.
The last time a strike came about between Coca-Cola and Teamsters employees was in Huntington back in 2000. That strike lasted 21 weeks. Picket lines were extended across the entire state of West Virginia.
In a statement released to MetroNews earlier this week, Coca-Cola Consolidated said it had made a fair offer.
"We've provided the union a fair and competitive contract offer for their members. We don't believe a work stoppage is in our teammates' best interest. During this time, we remain focused on continuing to serve our customers," the company said.