CHARLESTON, W.Va. — West Virginia Secretary of State Mac Warner is recognizing the voter registration of 100,000 high school students since he took office in 2017.
Warner has been a strong advocate in engaging young West Virginians in the election process, and he paid a visit to Capital High School Wednesday to garner even more election interest in honor of September being National Voter Registration Month.
With the help of Kanawha County Clerk Vera McCormick, Warner planned to register the 100,000th student to vote Wednesday under his initiative.
"That's quite the accomplishment or milestone anyway when you think we have 1.1 million registered voters in West Virginia, and now about a tenth of them will be these high school students, that's important because we want to get young people engaged," Warner told MetroNews.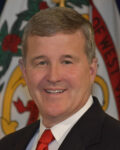 Warner said they are reinforcing what the students are learning in civics class by being there to show them the voting process first-hand and actually register them to vote.
McCormick was going to be introducing the students to voting equipment Wednesday and showing them how real ballots are composed and printed out. Warner said by going ahead and introducing them to the tools, it makes it easier for them to understand the system.
"The more people participate the higher confidence everybody has, and West Virginia has been setting some records with voter turnout and that comes from voter confidence, he said. "That begins right here with making it easy for them to understand the process to register and then to encourage them to vote."
Timothy Scott, a senior at Capital High who was at Wednesday's presentation said as a lot of them are 17 going on 18 and are starting to go out in the world, expand their education and find career paths, so it's time to also start thinking about voting.
"It's interesting, because I want to start getting into it and getting into politics more, makes me wonder what the future is going to be like," Scott said.
Capital High senior Riley Meadows was similar to Scott in the sense that she too was still trying to form her own political perspective and hadn't really looked into any specific stance yet besides basing her knowledge off what she has learned in civics.
Meadows said while it's scary to be going out in the world and gaining a voice, she knows the importance of having one's own opinions.
"If you don't put your vote in and then fuss about what something is, there's no point in fussing, because you didn't help or put in any effort to make a change," said Meadows.
Along with simply getting the students accustomed to voting as a West Virginia citizen, Warner wants to instill bigger motives in them, as well, such as encouraging them to run for office.
He said the state has a rich history of young people finding success in office. One example is Saira Blair of Martinsburg, who became the youngest person ever elected to state office, but Warner said she isn't the only inspiration to come out of the state.
"Caleb Hanna, the youngest African American ever elected to office right here in West Virginia and Jennings Randolph getting 18 year old's right to vote with the passage of the 26th amendment, " he said. "So, West Virginia has this proud legacy and I want these students to feel a part of it."
He said beyond encouraging them to pursue a run for state office, however, he hopes introducing them to the state's election process now will inspire them to stay and develop their lives here, something which has been one of West Virginia's biggest challenges in more recent years.
"We need to increase this population, and it does us know good to put all of this time and money into educating them and then have them take off after high school or college and head to North Carolina or Colorado or some other state, we don't want to educate their workforce, we want to educate our workforce," said Warner.
Warner said there is also a The Jennings Randolph Award for civic engagement, which is an annual award created by the West Virginia Legislature and given by the Secretary of State's Office to any high school that registers 85% of their students to vote. More information on the Award can be found at this link.
After taking Randolph 29 years to get the 26th Amendment passed, allowing the voting age to be reduced from 21 to to 18, it finally became law in 1971.