CHARLESTON, W.Va. — A Charleston woman who killed two people during a wrong-way drunk driving crash along I-77 last year is heading to prison.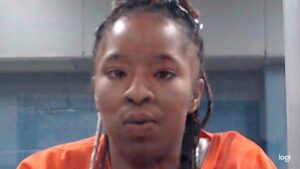 Edriene Sutton, 25, was sentenced Wednesday to the maximum of two terms of 3-15 years in prison after she pleaded guilty in March to two counts of DUI causing death.
The crash on Feb. 26, 2022 claimed the lives of Brittany Weldon, 27, and Joshua Robinson, 37, both of Charleston. Weldon was a passenger in Sutton's vehicle. Robinson was the driver of the other vehicle.
Robinson's girlfriend Jeriaha Hall, during an emotional victim impact statement Wednesday before Kanawha County Circuit Judge Maryclaire Akers, said Robinson was killed the day before her daughter's birthday.
"Something in my soul woke me up at the time that they said the crash happened because he wasn't home," Hall said.
Police said Sutton was driving north on I-77 when she crashed her car into Robinson's vehicle just before the Leon Sullivan exit in Charleston at around 3 a.m. Both victims were pronounced dead at the scene.
"He didn't have a chance to fight. He didn't get a change to say bye," Hall said, fighting back tears.
Hall said around 7 a.m. that morning, she was on her way to Walmart to buy party supplies when she drove by the crash scene.
"As I'm coming on, I notice Josh's car. She (Sutton) was going so fast and hit him so hard that his car was facing the opposite direction as if he was driving the wrong way," she said.
Hall along with Weldon's mother, Monique Lacey, requested the maximum prison sentence because two lives were lost.
"I suggest a consecutive sentence. How could you go up an exit ramp of a one way street and kill two people?" Lacey said, directing her frustration toward Sutton.
According to the criminal complaint, police found a partially empty bottle of gin on the floor of Sutton's vehicle. Officers also detected the smell of alcohol on her breath. She then admitted to police she had been drinking the night of the crash.
Lacey said Sutton was irresponsible and made a bad decision at the expense of her daughter who was in the car with her.
"Nothing can cure this. Nothing can heal me," she said.
Medical records indicated Sutton's blood alcohol content level (BAC) was 0.171, but Sutton's attorney Joe Spano claimed her BAC was 0.103. The legal limit is .08.
"It was just under the legal limit. She thought was able to drive because she only consumed two alcoholic drinks within a three hour period," Spano said. "Nothing she ever did was malicious. It was all an accident."
Jacinta Johnson, a family friend of Weldon, also testified Wednesday and said Sutton and Weldon did not know each other as much as Sutton claims.
"None of the group of girls surrounding Brittany knew who she was. For her to say Brittany was her best friend, I'll give her that because Brittany was everyone's best friend," Johnson said.
Sutton said she was sorry for her actions before she was sentenced.
"I want to apologize to both families for the mistake I have caused," Sutton said.
Judge Akers said while Sutton was a hard worker with multiple jobs at the time of the crash and never had a criminal record up until that point, she still caused harm to families who will never see their loved ones again.
"I can't ignore the fact that you were under the influence of alcohol, period, at the time of this crash. You went up the wrong way up an interstate and that cost lives of two innocent people," Akers said. "That's a catastrophic decision to make."